Cassie Is Back With New Single "King of ...
Cassie Is Back With New Single "King of Hearts"
11 Feb 2012 05:50:23 CST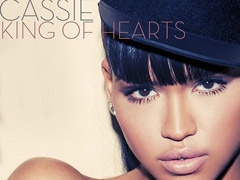 Do you remember Cassandra Ventura? Despite being a sexy exotic beauty, she is dancer, model, actress and RnB artist. But she's better knows as Cassie. Now do you remember her?
Her first single "Me & U" was a major hit back in 2006. We haven't heard from her for a long time. She seems to be back now. After a trailer for the video of her single "
King of hearts Lyrics
" being all over the internet for months, yesterday the very single is finally out . It was intended to be released on 14 Feb, but it leaked early. Maybe we are to expect the official video on Valentine's day then. The track has electro- dance beat. It is the lead single of her forthcoming second album "Electro Love" set to be released in May 2012. She changed her label for her second album and now she's working with Interscope Records.