Diddy Won an Oscar for "Undefeated" ...
Diddy Won an Oscar for "Undefeated" documentary!
27 Feb 2012 12:57:15 CST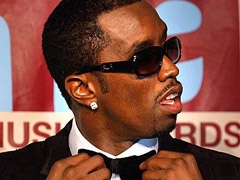 Sean Combs (or more known as P.Diddy or just Diddy) is a big deal. He was declared by Forbs Magazine to be the richest person in Hip-hop in 2011 (Jay-Z is second. He is not only singer/songwriter, but a businessman:
- Record producer - he owns a record label (Bad Boy Records);
- An actor in movies and TV shows. Plus, he has a movie production company.
- Owns "Sean John Clothing Inc" – a clothing and fragrance company (which was awarded by Council of Fashion Designers in America);
- Owns two restaurants;
- Brand ambassador of Ciroc Vodka.
Diddy had won 2 MTV Video Music Awards and 3 Grammys. And now he has an Oscar. At the 84th Academy Awards he won an Oscar for Best Documentary Feature for the football documentary - Undefeated (of which he's the executive producer). The documentary is about a underfunded football team, whose fortune turns around thanks to its coach - Bill Courtney.
Diddy formed a rap group Diddy Dirty Money. The group includes Diddy himself and singer/songwriter Kalenna Harper and singer/dancer Dawn Richard. Check out their song off the album – "Last Train to Paris" -
Looking For Love Lyrics