Happy Birthday to Rihanna!
Happy Birthday to Rihanna!
20 Feb 2012 03:01:44 CST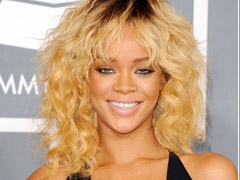 Rihanna turns 24 today and she's been on the stage for 7 years now. She has won over 30 awards already, among them are six Grammys, five American Music Awards, 18 Billboard Music awards, 2 MTV Video Music Awards, etc. We've seen her go through many transformations. She was never boring though she is just awesome!
Last year Rihanna launched her first fragrance – Reb'l Fleur. About a week ago, a red hot sequel was initiated, it is called Rebelle – Rihanna eau de perfume. "Rebelle" is how Riri's grandmother used to call her. Here's what Rihanna said about the perfume: "My new fragrance is about taking control but still being a lady".
Also, Rihanna attended London autumn/winter fashion week. On 18 February she went to Stella McCartney Special Evening Wear Presentation, wearing one of McCartney's evening dresses.
Happy birthday, Riri! You have our best wishes!
We are looking forward to that "Birthday cake" treat!
I think today is just the occasion to listen to Rihanna's
Cheers Lyrics
So, enjoy it!