Katy Perry - Part of me (Official Music ...
Katy Perry - Part of me (Official Music Video) and New Song - Dressing Up
22 Mar 2012 10:29:06 CDT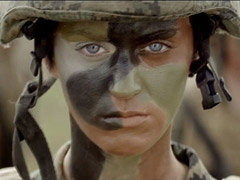 The re-release Katy Perry album "The Teenage Dream: The Complete Confection" is coming in 4 days (27 March) and just hours ago the official music video for the chart-topping hit single "Part of me" premiered. Katy is no longer a sugary sweet princess, in this visual, Katy turns into a badass military chick. The video, directed by Ben Mor, was shot at USMC's Marine Coprs Base Camp Pendleton in Oceanside, CA.
Check out, the
Part of me Lyrics
video:
Dressing up Lyrics
, which will appear on the much-anticipated LP, leaked a few days ago. It is produced by Tricky Stewart and didn't make the tracklist of the previous album "Teenage Dream". Enjoy!