Keri Hilson – acting in new movie and ...
Keri Hilson – acting in new movie and preparing new album
7 Mar 2012 08:47:49 CST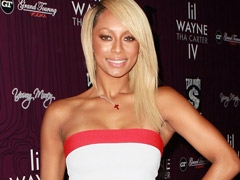 Another music celebrity entered the movie industry . Keri Hilson. First, we can see her acting in "Think Like a Man" (in theatres on 20 April), in which she joins Chris Brown. Now, she has another acting role in a Universal pictures production which is being filmed. Keri will appear in the sequel of the chronicles of Riddick (yet untitled)– a sci-fi action thriller – alongside with Vin Diesel and Karl Urban. The movie is coming in 2013.
Also, Keri is up to another project, this time a music project. She's been recording her third studio album. No release date or title of the LP are announced yet. She says there's still much work. She refers to the album as a mixture of the previous two with new elements of course.
The way you love me Lyrics
is a collaboration with rapper Rick Ross. The R&B, dance-pop track which is a part of the album "No boys allowed" and was produced by Polow da Don. The music video, or more like a mini movie, is directed by choreographer Laurie Ann Gibson.