Music Video: Nicki Minaj - Pound The Ala...
Music Video: Nicki Minaj - Pound The Alarm
1 Aug 2012 09:38:53 CDT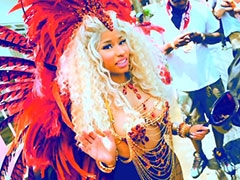 Finally the highly anticipated music video for Nicki Minaj's
"
Pound the alarm Lyrics
" is here. The video was filmed in Port of Spain,
directed by Benny Boom. Pound the Alarm is part of her second
studio album
Pink Friday: Roman Reloaded
. The song has mixed reviews
from music critics because of the similarities to the album's lead single,
"
Starships Lyrics
".
Nicki Minaj's appearance here is in carnival event. Again she's making her
moves with her dancers all dressed with colorful carnival clothes.
The influence of the video is similar with the lead single.
Check the video below: