New song and video: Kat Graham - Put You...
New song and video: Kat Graham - Put Your Graffiti On Me
28 Mar 2012 09:34:11 CDT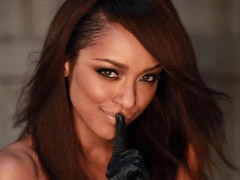 Kat Graham is an actres, dancer, model and… lately she is active also as a singer. Some of you may know her as Bonnie Bennet from the CW tv show "The Vampire Diaries" and/or as Maria Ramirez in "Honey 2".
Kat signed to A&M Octone Records on 2 Feb 2012. She has had a couple of songs before, such as
Sassy Lyrics
and
I Want It All Lyrics
, and now her debut single with the major label (Octone) is
Put Your Graffiti On Me Lyrics
. The song, produced by the Australian duo Twice as Nice, serves as the first single off Kat Graham's upcoming debut album which is due later this year. In the Benny Boom directed music video of the new pop track, Kat Graham is a very sexy(as always) and perky and shows some pretty hot moves. It's a groovy piece of music! Enjoy!