New Song: Lana Del Rey - Ride
New Song: Lana Del Rey - Ride
25 Sep 2012 09:28:36 CDT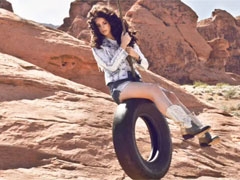 Lana Del Rey annonced her brand new single titled "
Ride Lyrics
" which is
part of the new version of her upcoming re-release "Born to Die: The Paradise Edition".
It's expected to be one of the most promising releases of the year with a lot of new
tracks. Nine new songs are expected to be included.
"
Ride Lyrics
" is set to be a lead single. It's produced by Rick Rubin.
Why "
Ride Lyrics
", probably because the american singer is riding a tire in the middle of the
desert or maybe not.
Check the official audio: