New Video: Chris Brown - Don't Judge Me
New Video: Chris Brown - Don't Judge Me
27 Sep 2012 06:00:44 CDT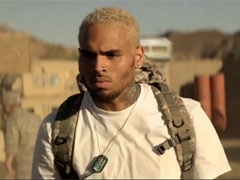 Here's how Chris Brown surprised us again with an extremely impressive video
for his song "
Don't Judge Me Lyrics
". The plot of video fits in an incredible way of the song.
Chris plays the hero - the savior of the earth. He is up against a giant alien creature
out in the space. By the end of the video he sacrifices his life by breaking his spaceship into
the aliens. Before this scene asked by a female reporter why he's doing this he repolies:
"I'm doing this service for my country and my planet. If that means saving the people that
I love and that I care about, that's what I'll do."
Strong video in the style typical of Chris Brown that's how we could summarize shortly.
Check
"Don't Judge Me Lyrics
" music video below: