Nicki Minaj news - Pepsi deal, Tracklist...
Nicki Minaj news - Pepsi deal, Tracklist and Tour
20 Mar 2012 10:42:29 CDT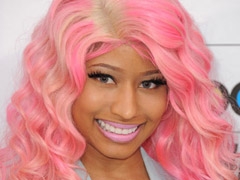 Nicki Minaj is going to be the next face of Pepsi. She signed a multi-million dollar deal for with Pepsi Co. She participated in a commerical, the footage is shot in Argentina. Nicki is going to promote Pepsi's new product "Pop". The ad can be seen in the next two months.
Besides that, Nicki revealed the track listing of upcoming PF: Roman Reloaded album and announced European Tour. The tour starts in June in Stockholm, Sweden
Tracklist:
01. Roman Holiday
02. Come On a Cone
03. I Am Your Leader (feat. Cam'ron & Rick Ross)
04. Beez in the Trap (feat. 2 Chainz)
05. HOV Lane
06.
Roman Reloaded (feat. Lil Wayne) Lyrics
07. Champion (feat. Nas, Drake, & Young Jeezy)
08. Right By My Side (feat. Chris Brown)
09. Sex in the Lounge (feat. Lil Wayne & Bobby V)
10.
Starships Lyrics
11. Pound the Alarm
12. Whip It
13. Automatic
14. Beautiful Sinner
15.
Marilyn Monroe Lyrics
16.
Young Forever Lyrics
17. Fire Burns
18. Gun Shot (feat. Beenie Man)
19.
Stupid Hoe Lyrics
20. Turn Me On (feat. David Guetta) [deluxe edition]
21. Va Va Voom [deluxe edition]
22. Masquerade [deluxe edition]
The announced 15 tour dates, 8 of which are in UK:
June 8: Stockholm, Sweden (Annexet)
June 9: Oslo, Norway (Oslo Spektrum)
June 11: Frederiksberg, Denmark (Falconer Salen)
June 13: Brussels, Belgium (Ancienne Belgique)
June 18: Amsterdam Zuidoost, Netherlands (Heineken Music Hall)
June 19: Paris, France (Zénith de Paris)
June 21: Milan, Italy (Alcatraz)
June 24: London, UK (LHMV Hammersmith Apollo)
June 25: London, UK (HMV Hammersmith Apollo)
June 26: Birmingham, UK (NIA Birmingham)
June 28: Manchester, UK (O2 Apollo Manchester)
July 6, 8: Kinross, Scotland (T in the Park Festival)
July 7: Hyde Park, London (Barclaycard Wireless)
Aug. 18-19: Shifnal, U.K. (V Festival 2012)
Aug. 18-19: Chelmsford, U.K. (V Festival 2012)