"Reincarnated" – Snoop Dogg's 12th Sol...
"Reincarnated" – Snoop Dogg's 12th Solo Album Coming Soon
6 Feb 2012 01:26:33 CST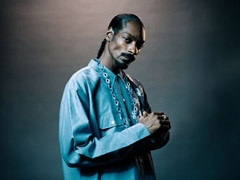 Clavin Broadus, Jr or as we all know him Snoop Dogg , posted on the social networks that this year a new album called "Reincarnated" (plus a documentary) is coming out . Still no exact release date is given out. Snoop Dogg is not taking his time, he's working hard! He produced two albums last year (Doggumentary, Mac + Devin Go To High School ft Wiz Kalifa) and now a new one is already done. Good job, Snoop! We can't wait to see what more you have for us!
Here's some Snoop Lyrics:
New Year's Eve Lyrics
(featuring Marty James)– promotional single , did not make the final tracklist of "Duggumentary". Its video is directed by Pook Brown. The video features Mike Epps, DJ Quik and Kokane.
"Wet" – It's the original, produced by the Cataracs . Recorded for Prince William's bachelor's party, it's the lead single of "Doggumentary". A remix of "Wet" by David Guetta, called "
Sweat Lyrics
" is released later and gets more popular