Rihanna interviewed by Jonathan Ross. Hi...
Rihanna interviewed by Jonathan Ross. Hilarious!
5 Mar 2012 01:14:55 CST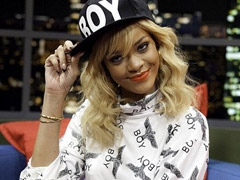 Rihanna's been in London the past couple of weeks. And on Saturday (March 3rd )she was a guest at the British comedy talk show (BrE: chat show) by Jonathan Ross. She performed the third single
Talk that talk Lyrics
off the album of the same name. In the interview Rihanna talks about her openness to new things, about Adele; the competitiveness of female nature, about her being single and what she looks for in a man. She added that she is not recording as of now, because she wants to "delve more in the movie industry" this year. She really enjoyed being a "badass chick" in "Battleship". This acting experience made her want more. She is looking forward to new roles (but carefully picked ones, so she could "master them").
Watch the video of the interview below. You can see Rihanna being very jocular and sexy as always! She was so cute with her Bajan accent. Enjoy the video! It's 14 minutes of fun fun fun!
… and Riri's performance of "Talk That Talk"