The winner of Eurovision 2012: Loreen - ...
The winner of Eurovision 2012: Loreen - Euphoria
27 May 2012 08:00:13 CDT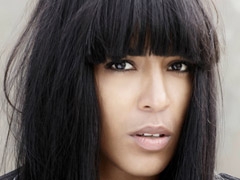 The pop singer and music producer, Loreen, representing Sweden, won Eurovision Song Contest 2012 that took place on 26 May in Baku, Azerbaijan with her song "Euphoria". The trance dance song received 372 points, which is the second highest score ever seen in the contest (after the record of 387 points held by the winner of 2009 Alexander Rybak, representing Norway, with the song
Fairytale Lyrics
). But "Euphoria" holds another record – it is the song that has received 12 points (the highest score by the current ESC voting rules) from 18 other participating countries (the highest number so far), plus Sweden received points from 40 of the 42 voting countries. Except for Sweden, which is not allowed to vote for itself, only Italy didn't give any points to "Euphoria". Loreen also won Melodifestivalen 2012 (Swedish song contest) on 10 March, again with
Euphoria Lyrics
. The track was released on 26 February by Warner Music Sweden.
Check out Loreen's performance at the final of Eurovision