Video: Tyga - Do My Dance ft. 2 Chainz
Video: Tyga - Do My Dance ft. 2 Chainz
3 Oct 2012 10:07:59 CDT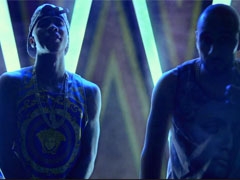 You can enjoy official music video for Tyga's track "
Do My Dance Lyrics
".
One thing certainly did not miss in that video - beautiful, graceful girls.
The video fits perfectly with the song with scantily dressed women riding
mechanical bulls while they show their moves.
The palatial scene is typical for the raper and its not a big surprise
for us. The variety of backdrops combined with some lovely chicks is the formula
of success. And this is a video you can enjoy more than once for sure!
Enjoy "
Do My Dance Lyrics
" music video: