Official video: Taylor Swift's "Hunger G...
Official video: Taylor Swift's "Hunger Games" soundtrack – "Save and Sound"
14 Feb 2012 10:36:33 CST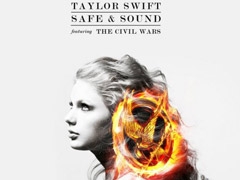 On 12 Feb Taylor Swift won two Grammy awards. Then on 13 February was the global premiere of the official music video of Taylor Swift's (feat. Civil Wars) single "Safe and sound". This is the song featured in the soundtrack list of "The Hunger Games" the Lionsgate sci-fi production which is going to air on March, 23, 2012. "Eyes Wide Open" is another one of Swift's songs included in the soundtrack of the so highly-anticipated movie. The "Speak Now" world tour continues this year. The tour dates for Australia and New Zealand (In March) are already posted.
Here's the new video :
And for those interested, here's the track list of "The Hunger Games: Songs from District 12 and Beyond" :
Safe & Sound Lyrics
– Taylor Swift (feat. The Civil Wars)
Eyes Wide Open – Taylor Swift
Abraham's Daughter – Arcade Fire
Ruler & The Killer – Kid Cudi
Run Daddy Run – Miranda Lambert (feat. Pistol Annies)
Kingdom Come – The Civil Wars
One Engine – The Decemberists
Take The Heartland – Glen Hansard
Lover Is Childlike – The Low Anthem
Dark Days – Punch Brothers
Tomorrow Will Be Kinder – The Secret Sisters
Just a Game – Birdy
Oh Come & Sing – Ella Mae Bowen
Rules – Jayme Dee
Reaping Day – Carolina Chocolate Drops
Give Me Something I'll Remember – Neko Case
Safe & Sound (Bonus Video) – Taylor Swift